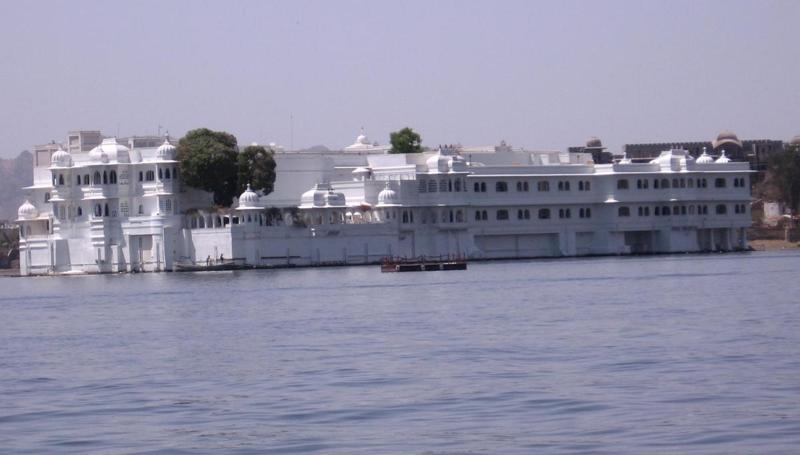 I can't believe that I've been married for a decade. Papa (as we all call my husband, since our older daughter christened him so) and I were college sweethearts, and we have been a couple for over 17 years. In another year we will be in an adult relationship, Papa likes to joke.
A Flashback
10 years ago, we returned to India for 3 weeks, taking the longest break our advisors at grad school would permit. Our parents did a fantastic and efficient job of planning the wedding and reception. Hats off to them for executing a big fat Indian wedding with all the complexities involved, and with little help from us. We were around for just two weeks, after which we went for a week long honeymoon. We could not bear to shorten that, because soon after, we would have to go back to a long distance relationship for another year. We had already been doing long distance for 5 years.
We were planning a honeymoon in a houseboat in the backwaters of Kerala, when my inlaws offered to arrange a honeymoon for us at the Taj Lake Palace in Lake Pichola in Udaipur. We couldn't be more thrilled. This gorgeous, blemishless, white palace is located right in the middle of the lake, isolated from the rest of the world, and can only be approached by boat. It's a perfect honeymoon paradise.
Even in the month of April, the lake was sufficiently full. The staff made us feel welcome, and the food was superb. We went on a boat ride arranged by the hotel to check out the other islands on the lake, one of which used to be a decadent pleasure palace. We were told by the hotel staff that the palace was built by a Rajput prince, who married a princess from Sri Lanka. Hailing from a humid island, she was unhappy living in a dry desert, so he built the lake for her just outside the city palace, and then built the palace in the middle of the lake.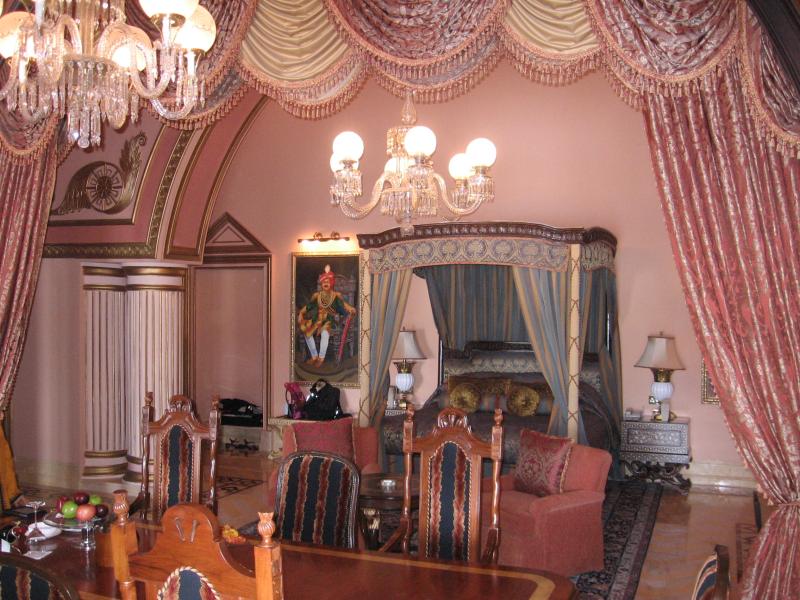 On the last day of our honeymoon, the management upgraded us to one of the most luxurious suites in the hotel. Our stay had been so magical, we decided to return in 10 years. But this year, we decided to visit the palace in August, so we could experience the magic of the Lake Palace in the midst of the monsoon.
Our First Trip Without Our Kids
My inlaws were happy to keep my daughters, aged 6 and 3, for a weekend, so Papa and I set out to relive the magic. My kids stay with my inlaws for one night every week, so I knew they would he happy and safe, and my in laws would enjoy themselves too. So we experienced no guilt in leaving them behind. We had a short two days to spend time as a couple, and we decided to make the most of it.
Even before we left, we realized things were going to be different this time. Without the kids to worry about, we had to carry fewer medicines, fewer clothes (they have a knack for messing up our clothes with juice or ice-cream or whatever else they can spill) and no toys, games or crayons. We were done with packing in half an hour flat, and had just one cabin bag!
Feeling lighter than feathers, both literally and metaphorically, we arrived at the airport. It's been ages since I felt so light hearted at an airport. I didn't have to worry about keeping an eye on anyone, or resolving fights about which sibling gets to sit on the trolley or push it. With the kids we normally sit in an airport lounge, but this time we were free to walk around without a care in the world. We could browse bookstores without worrying about our kids bringing the toy or stationary display down, as they accidentally ran in to it, or about them leaving chocolate flavored finger prints in one of the books.
I saw a lady with her a girl as old as my younger one. She was listening to the finger family song and I was relieved I would not have to hear that song for two whole days.
On the plane though, there was a delightful little baby who reminded me of my younger daughter, but once I started reading about Galahad in Blandings Castle, I got lost in my book and forgot all about the kid. It was blissful reading through an entire plane journey only to stop to share something funny from the book with my husband. He was enjoying a book on his kindle too.
The Magic Lives On
When we reached the hotel in the afternoon, there was a pleasant surprise in store for us. We had been upgraded from a regular to a spa suite. So we had a two person jacuzzi in the suite, and a room with massage beds in addition to a bedroom and a sitting area. It was perfect, but it was only the beginning. As soon as the formalities and paperwork was completed and the luggage brought in to the suite, we were all by our selves in a gorgeous suite with an enchanting view of the lake.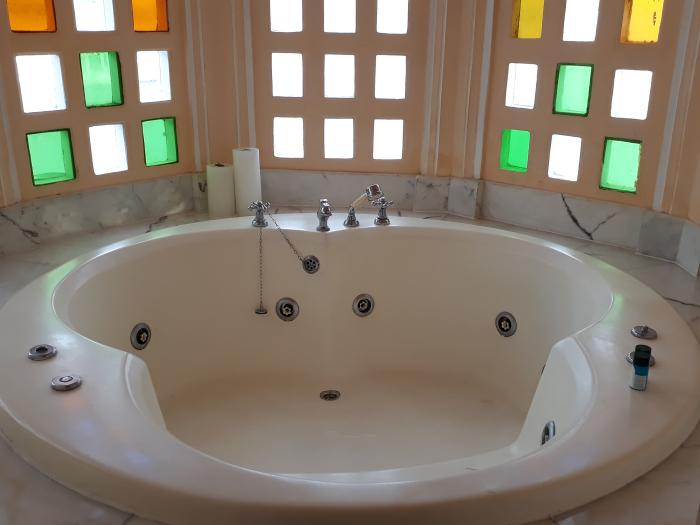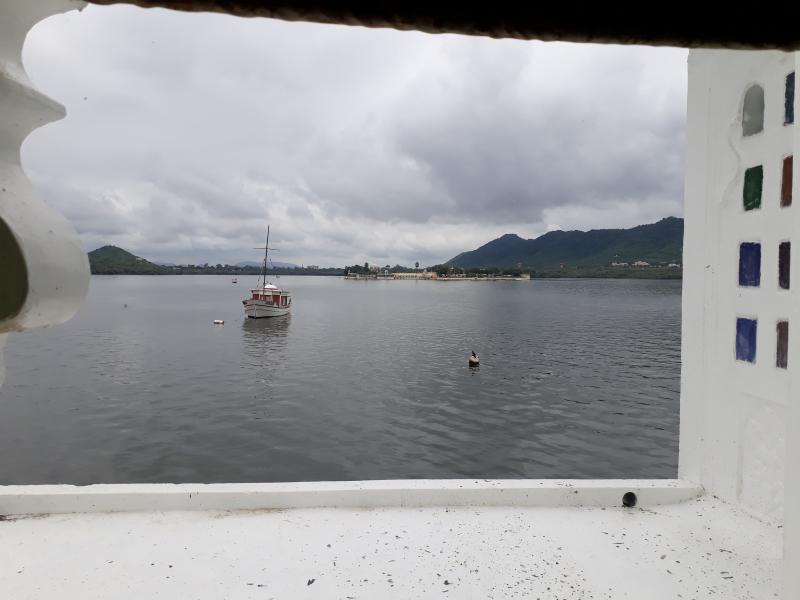 We headed straight for the jacuzzi. A couple of hours later, we emerged from the suite and decided to take a walk. The walk made us nostalgic and we remembered something peculiar from our previous visit. Every evening, around sunset, a huge number of birds would gather on the tops of the hotel, and the cacophony of the bird calls was quite alarming to someone not expecting it. This time, perhaps because we were expecting it, it wasn't as disconcerting and we enjoyed it.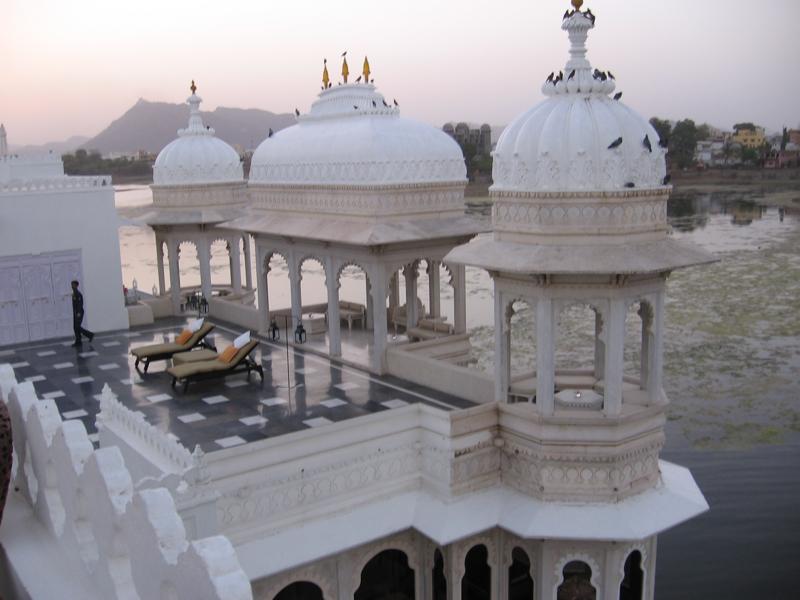 When we had come for our honeymoon a decade ago, we dined every evening at the restaurant serving traditional Rajasthani cuisine and after a few days the chef took a great liking to us and offered to make us any dish of our liking on the house. Memories of his pathar ghost and pani puris made with aam panna still make our mouths water. So, of course, this time to we decided to dine at the same restaurant. The menu had changed and perhaps the chef too, but not the quality and perfect spicing of the food. The sweet raw mango chutney with a hint of ginger, served with the papad was so delicately flavored with the perfect balance of sweet, sour and spicy, that Papa could not resist licking the bowl clean. The dry mutton dish and tandoori broccoli we ordered, were also culinary delights. Desert was rabri with jalebi and it did not fail to live up to the already high expectations.
After dinner, we sat by the poolside balcony admiring the lights on the city palace, and staring at the tranquil waters of the lake.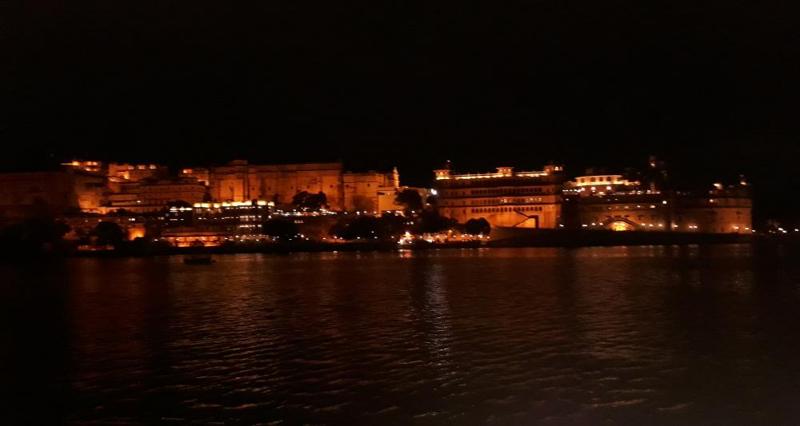 The next morning breakfast was even more delightful. I can honestly say, I never imagined a simple pav bhaji could make my palette tingle with pleasure, but it seems, I had not yet tried the most delightful culinary marvel the palace had to offer. It was a seemingly ordinary waffle, but the texture was so perfect, crisp on the outside, and soft and flaky on the inside, one bite and I was transported to heaven. At this point, I was seriously wondering if it would be possible to kidnap the chef.
As much as I love my kids, they rarely let me enjoy a hot meal or a cold treat. So four such meals back to back, savoring the most flavorful food I had ever eaten, was pure ecstasy.
Papa and I spent hours drinking in the view of lake and green mountains, reading, chatting, cuddling and then some. Papa, a huge fan of massages, was thrilled to be able to get one in the suite itself. It was a picture perfect two days.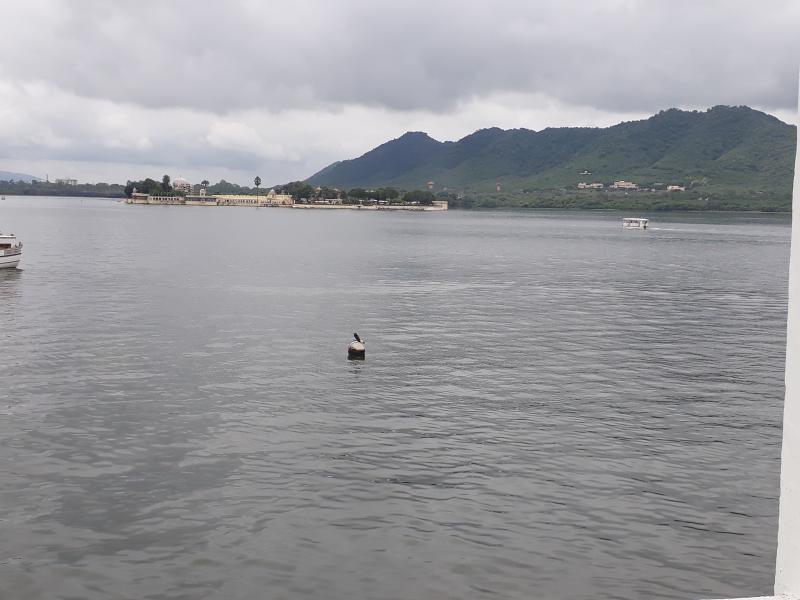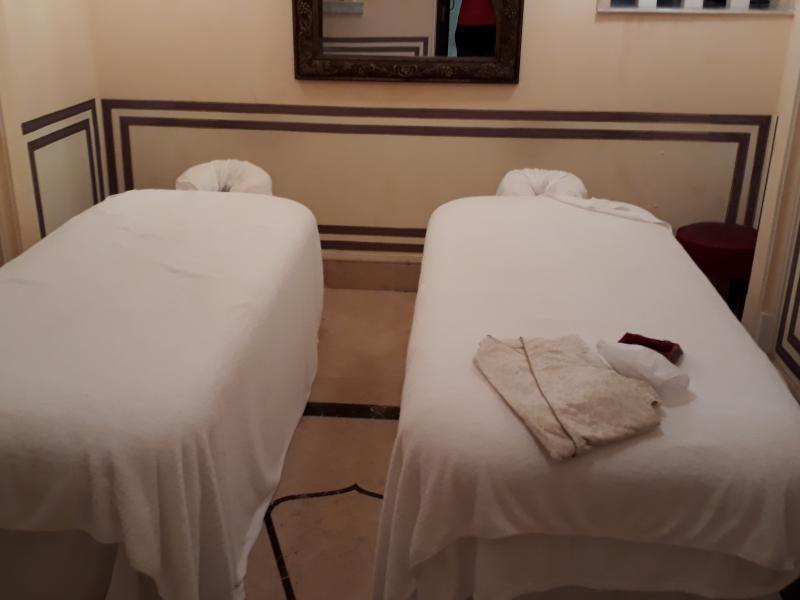 It was a picture perfect two days.