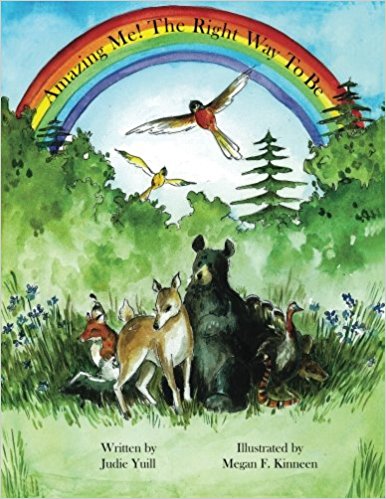 Amazing Me! The Right Way To Be, by Judie Yuill & art by Megan F. Kinneen was the first story I read to my daughter. She got it as a gift from her dadi-mausi when she visited us from the USA.
My daughter was a year and a half old and I thought it was time to try out a story. We had been reading picture books for a while and still do, but I thought she was ready for stories. I could not have started with a better book.
There are beautiful illustrations of course, but that was not what my toddler liked most about this book.
The book has a story with a very simple plot. It is so well presented in rhyme form, that my one and half year old could recite the whole story with a few hints, after it was read to her about a couple of dozen times. What I really liked about it, was that I enjoyed reading it to her 4 or 5 times a day without feeling impatient or annoyed.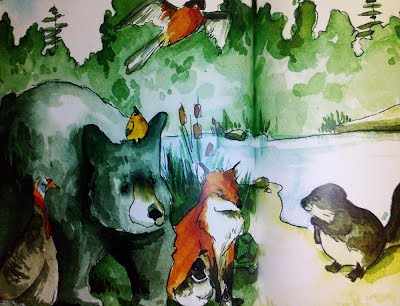 My daughter loves animals and the book presents a variety of them with excellent illustrations. I liked that, the illustrations are like paintings and not cartoons. My daughter did not seem to mind that at all. She loved seeing the colourful pictures of the animals. She had never heard of a turkey before and was excited to learn about a new bird.
The story, and the message it carries, is cute. It is not preachy, but an interesting realisation the animals come to, after they have to co-operate on a task.
My daughter loved that I read the story to her with voice modulation to indicate rising tension, humour, sympathy, excitement or any other emotions vividly described in the book.
I highly recommend this book for your little ones. The version I had was a hard cover with regular paper pages and the little one tore one of the pages in excitement one day. Unfortunately this does not come as a board book.
My daughter, now three and a half, still loves this book and is now trying to read it on her own, though that is going to take her a while. Over the years we have read the story, many many times, and soon my younger one is going to be old enough for it.
Pictures in this post, are photographs I have taken, of the book only for the review purposes. The copyright remains with the copyright holders of the book.
The book is available for purchase at amazon.com and amazon.in.