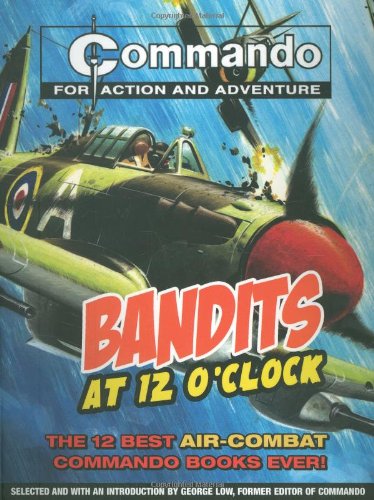 Book Details
Genre: Children's, short stories, comic, adventure, war, battle
Ages: 8+
Price: Varies
Buy From snapdeal or amazon India
Review
Bandits at 12 o'clock is a collection of a dozen stories revolving around the lives and missions of fictional R. A. F (Royal Air Force) fighter pilots and bombers, presented in comic book style. Set mostly during the second world war, the stories describe exciting dog fights between the R. A. F and their two main enemies, the Germans and the Japanese.
Planes and Places
The R. A. F pilots in these stories hail mostly from Britain, New Zealand, Australia, although one story involves an American pilot. As the R. A. F tangles with the Luftwaffe; Battles, Mosquitoes and Spitfires engage Stukas, Focke-Wulfs and Messerschmitts in fierce air battles.
The Wimpeys and sturdy American P-40s have their work cut out for them in dealing with the quick and agile Japanese Zeros.
The stories are set in different locations including Europe, Africa, South America, Burma, Greece, Australia, and even on aircraft carriers in the midst of the oceans giving the reader a panaromic view of the war. Through engaging stories, the books explore the strengths and flaws of various aircraft models.
The Human Angle
Whilst facing death in the eye and watching friends die, even some of the most brilliant pilots need something to hold on to. Good luck charms play their part in helping these daredevils through tough spots. But on the downside, bad luck superstitions can be a hindrance to the smooth functioning of a crew.
Primarily exciting adventure stories of skill and guile in battle, most of them also shed light upon the importance of perseverance, friendship, loyalty and such other human values in heroic exploits.
Some highlight the necessity of balance and compromise in choosing an optimal strategy, which is best achieved through a constructive exchange of ideas between those with expertise in different approaches. Many stories focus on a constant tug of war between personal initiative and yielding to authority. But daring initiative coupled with flawless teamwork result in the most successful operations. Such co-ordination is established over time, as spirited individuals and their overbearing commanding officers learn from each other.
The stories are full of racist remarks, but it's accurate given the war setting and the times. Even so, there are stories of individual pilots who respect their skilled opponents while fiercely fighting them.
Punchline
Thrilling adventures steeped in history.