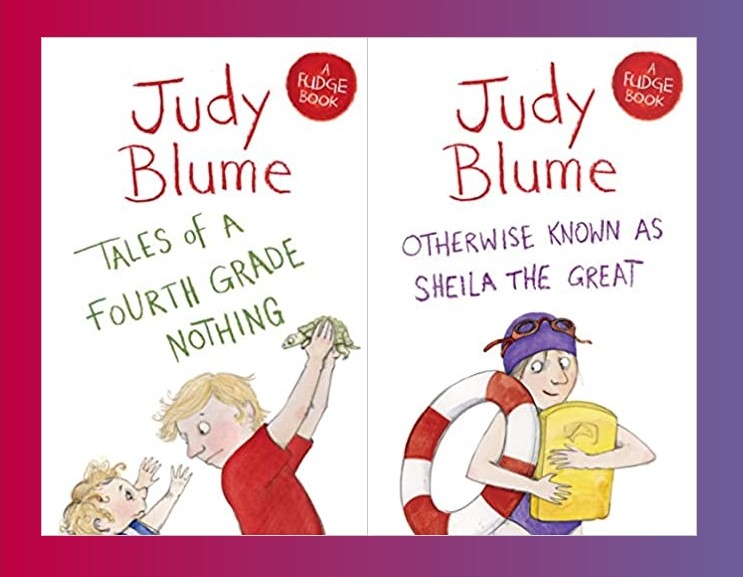 Growing up in English educated households in India, one couldn't escape hearing about British children's book writers like Enid Blyton and Roald Dahl. Enid Blyton, through Noddy made her way into my life in my pre-school years. Later, there were the mystery solving Find-Outers, the adventurous Secret Seven, and the rivalries, friendships, insecurities, achievements, fun and tricks of girls who attended boarding schools.
A little later, came the explosive imagination of Roald Dahl. What child can resist the attraction of Willy Wonka's chocolate factory? Who wouldn't want to be a voracious reader like Matilda? Doesn't every child itch to prepare a strange and magical concoction like George?
But I knew nothing of the American Author Judy Blume, until I watched Gilmore Girls. Laurelai first mentioned her in an episode in the context of teenage issues, and I decided to check on her when my 9-year-old was looking for something new to read.
But then I discovered that Judy Blume wrote for little kids too, and it was my 6 year old who really took to her books, particularly the Fudge Series.
The Fudge Series
So far, I have finished reading the first two books in the Fudge Series and they are about as different as can be.
Book 1: The Tales of a Fourth Grade Nothing
This includes a set of chronologically arranged anecdotes from the life of 11-year-old, well behaved Peter Hatcher, who is trying to adjust to the presence of a strong-willed and mischievous toddler brother, Fudge.
Fudge usually annoys Peter, much like a pebble in one's shoe, with his constant, troublesome presence. Though sometimes he is a hurricane of destruction, truly upsetting Peter. But all in all, Peter secretly likes how Fudge looks up to him, and every once in a while, a situation arises when Peter realizes just how much he loves Fudge. The book is an entertaining account of a realistic sibling relationship from the perspective of the older sibling.
With a new baby on the scene, parents often suddenly add too many new responsibilities on the shoulders of their previously pampered only child. The change can be quite daunting, while exhausted parents dealing with the challenges of baby rearing can seem a little distant. Peter for these reasons is quite resentful towards Fudge, but with time, he adjusts to the changes, and also discovers a few joys of being a big brother.
Book 2: Otherwise Known As Sheila the Great
One comes across many books for children where kids are shown as strong, resourceful, clever and confident. Such fictional children serve as inspiration for young readers. But many real children experience a plethora of insecurities. Afraid of being teased, they resort to false bravado, so flimsy, that it can be easily shattered causing them to be the subject of further ridicule. This can cause them to retreat further into their shells, and become even more defensive.
Sheila is spoiled, cowardly, insecure, insufferable and borderline rude. Yet, she is the protagonist of this book. When Sheila meets Mouse, a non-judgmental, firm but sensitive young girl at summer camp, they become firm friends. Mouse although unflinchingly truthful, chooses her words carefully so as not to wound Sheila's fragile pride. Slowly, Sheila learns to trust her.
Mouse and some other encouraging people at the summer camp help Sheila grow and conquer some of her fears. Although this does not change her personality radically, she opens up to new possibilities.
Neither dramatic, nor preachy, the anecdotes in this book are refreshingly honest, as they delve into the insecurities kids often have to combat, or the uncomfortable truths they have to learn to accept, before they can even begin to battle their fears and grow comfortable in their skins.
Other Books in the Series
Here are the links to the three remaining books in the Fudge Series
Engaging, amusing anecdotes that reveal the unvarnished realities of childhood.