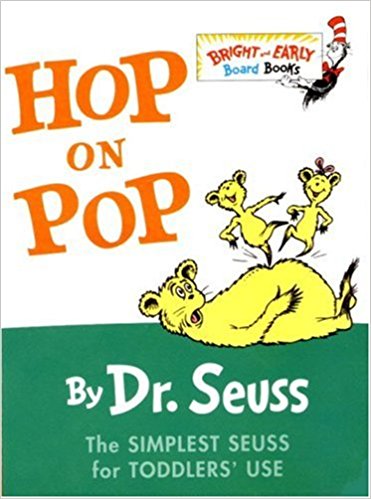 My older one has always loved story time and Dr. Seuss in a great favourite. It was for me too. My favourite was Wacky Wednesday. My mother still complains that I made her read that book way too many times. I loved counting all the wacky things on each page. Some of those things were outrageous.
My daughter's favourite is Hop On Pop. She loved it when we read it to her a couple of years ago. But recently she is learning to read by herself, and there isn't a better book for beginner readers. She can read almost the whole book on her own.
The book starts with really simple words like up and cup and very gradually ramps up to words like long and song and then finally to jump and bump. There are pictures to help kids figure out the words. Rhyming words are repeatedly used for a few pages to get kids comfortable with them before moving on to new words. Beginner readers can make noticeable progress with this book and it is a great confidence booster. And of course it is funny. The phrases and the illustrations make you giggle. That is what makes it, not just a good book, but a great book for beginner readers. Because it is important that kids learn to associate reading with fun and excitement.
My daughter loves that Mr. Brown sits on a see-saw with pup, and then pup comes down so hard that he sends Mr. Brown out of town. She is amazed that mouse carries a house. How is that possible she asks? I had to come up with, "The house is made of cardboard." She loves that Pat sits on all kinds of things, even a cat. "Will the cat get hurt, mama?" She asks concerned. But what about when Pat tries to sit on a cactus?
No Pat. No. Don't sit on that!
Most of all she loves to hop on pop (papa). Papa has always been the in house jungle gym for the kids. But Hop On Pop has inspired the kids to sit on his tummy and bounce. Papa indulges them too. He lies on his back with his legs stretched out and the two sisters sit on his knees one behind the other. Then papa jerks his knees and they fly up in to the air and laugh. They also like papa to lie on his tummy and whilst they try to maintain their balance as they walk on his legs (They are quite long because papa is 6 feet 4 inches). The older one has mastered it. The younger one tries so hard, but just falls off. So she has decided to stand on his legs and jump on to the bed instead.
Every once in a while when the bouncing gets too perky and papa protests vehemently, quoting Dr. Seuss of course. He says:
Stop! You must not hop on pop.
The kids squeal with glee, and then cuddle him. What an awesome way to learn to read!
You can buy Hop On Pop here on amazon