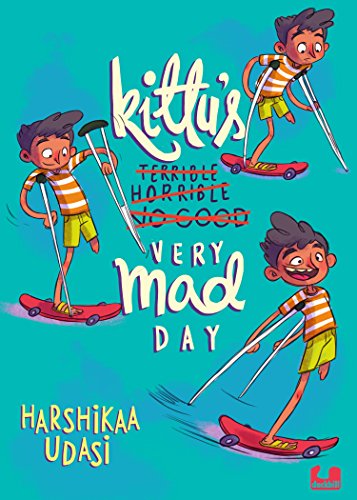 Book Details
Genre: Children, Disability, Humor, Adventure, Sports
Formats: Paperback
Ages: 5 to 8 years (Highest level of the young readers books from Duckbill)
Pages: 84
Publisher: Duckbill
Buy From amazon India
Price: Rs 149 on amazon for ebook and for paperback. M. R. P. is Rs 199 as printed on book
Plot Synopsis
Kittu's Very Mad Day by Harshikaa Udasi, is a story of an outspoken, one-legged young boy, Kittu, from Mumbai, who gets separated from his large boisterous family during a vacation, and is lost in Panna, Madhya Pradesh. Now who was the other boy who got Lost in New York? Didn't his name begin with K too?
Kittu is a spunky little boy. He lives in a large joint family, which he believes, is the world's most chaotic family. One day, they all go on a vacation to Panna, and on the way back, when they stop at a dhaba for a meal, Kittu gets accidentally left behind.
Being intelligent and resourceful, Kittu manages to latch himself on to a kind hearted ice cream seller named Madhav. Madhav agrees to, excuse me, is bulldozed in to agreeing to, help Kittu. Madhav suggests going to the nearest police station. But after years of being threatened that policemen will lock him up for not eating his meals, Kittu has developed a deep distrust for law enforcement. To stop Madhav for taking him to the police, he pretends that his father is a notorious Mumbai don who will extract revenge for his boy being handed over to the police.
Frightened at the thought, Madhav takes him home instead. The sleepy little village that Madhav lives in, is full of surprises as Kittu discovers. And Madhav's daughter Mad, lives up to her name. There is never a dull moment with Mad for company, and Kittu has quite an adventure whilst his family is desperately looking for him. Read the book to find out what astonishing discoveries Kittu makes about himself and the small sleepy village in the middle of Madhya Pradesh (is that the middle of the middle? Hmm...).
Highlights
The narration is bold and endearing. The characters are colorful, vividly described, and practically jump off the page.

The story is hilarious, light hearted and even snarky at times, but still tackles the delicate subject of disabilities head on with sensitivity.

The characters and their behavior is easy to relate to. For example, when Kittu is lost, he is determined not to approach the police because he, has been repeatedly threatened by his elders that the police will lock him up for not listening to them. As a result he has developed a deep distrust of the police. Sound familiar? It did to me.

It was very interesting to learn about the rural skateboard park at Janwaar castle.

There are lovely, lively, apt illustrations by Lavanya Naidu.
Embark on an awesome Madhya Pradesh adventure with Don Jr and Mad.
Duckbill sent me this book for an honest review.
Thanks PlusMinus'N'More, for everything I learned from you about reviewing books.