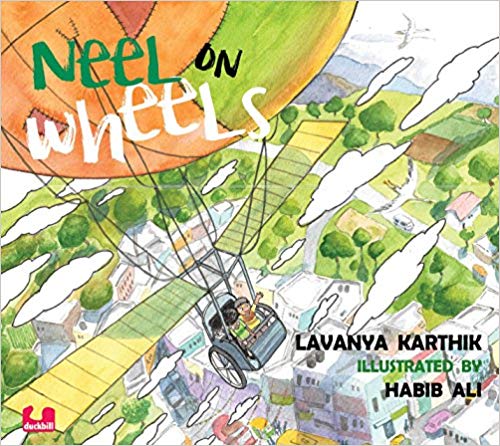 Book Details
Genre: Children, Disability, Humor, Adventure, Sports
Formats: Paperback
Ages: 1 to 10 years (Lowest level of the young readers books from Duckbill)
Pages: 22
Publisher: Duckbill
Buy From amazon India
Price: Rs 230 on amazon. M. R. P. is Rs 299 as printed on book
Plot Synopsis
Neel On Wheels by Habib Ali, is picture book about that glass of lemonade. Is it half full, or half empty? Every kid wants wheels, and Neel has them. True it's not a cycle, or skates, or a car. It's a wheel chair, but it might as well be the bat mobile. Just like a superhero, Neel chooses to use his wheels for wild adventures.
Highlights
The book shows that even though Neel is wheel chair bound, his life is just as normal, enjoyable and exciting as that of any other child. He can create a ruckus with his brother at home, go to the park, and even go swimming.

The book has gorgeous illustrations by Lavanya Karthik, that use vivid imagery to depict a child's wild imagination.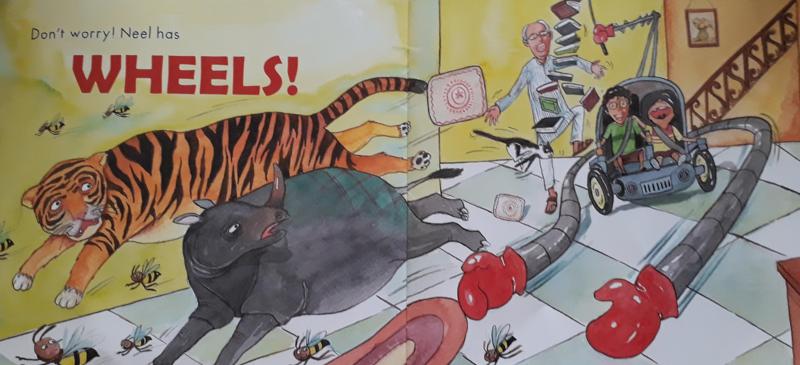 Imagination on overdrive!
Duckbill sent me this book for an honest review.
Thanks PlusMinus'N'More, for everything I learned from you about reviewing books.