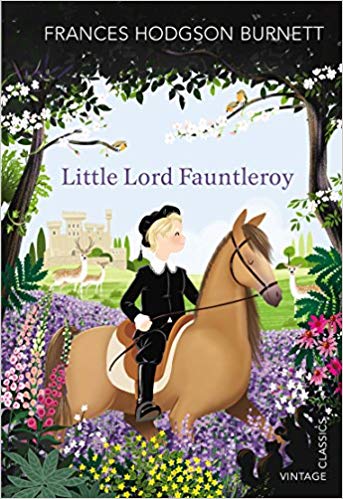 Book Details
Genre: Children, Classics, Drama
Formats: Paperback, Kindle
Ages: 6 to 10 years
Pages: 320
Publisher: Vintage Children's Classics
Buy From amazon India
Price: Rs 130 for paperback. Ebook is available free on Project Gutenberg in various formats
Plot Synopsis
Little Lord Fauntleroy by F. H. Burnett, written in the late 1800s, is a story about a cheerful and bright little American boy named Cedric, who learns that, after the unexpected demise of his two uncles, he is now Lord Fauntleroy, the heir to the Earl of Dorincourt.
Cedric's father, Capt. Errol, the youngest son of the Earl of Dorincourt, angered his father by marrying an American girl. The grouchy, mean spirited Earl, who despised Americans, banished the Captain from Dorincourt. The Captain and his sweet tempered, beautiful wife set up a modest life in America. Soon they were blessed with a baby boy and were very happy, until one day, the Captain fell very ill and died.
Cedric's mother tried to stay cheerful for her son, but there was usually a sadness about her, for she deeply missed her husband. Cedric, an unusually well informed and sensitive child, did his best to cheer her up. In his childish efforts to fill his father's role in his mother's life, he developed many adorable adult mannerisms. He was a good natured child, with many grown up friends including the grocer and the cobbler. He was generous, compassionate and well informed and loyal. He was gracious too, making it difficult for even his rivals to dislike him.
When Mr. Havisham, the Earl's lawyer arrives from England to inform Cedric of his good fortune, and to take him to England to live with his grandfather, he is pleasantly surprised by how easily the child charms his cynical soul. He is sorry to inform Cedric's mother, Mrs. Errol, that the Earl had refused to let her in to his house, but he has arranged for her live in a nearby cottage.
Mrs. Errol knew that her husband, although happy with his family life, sometimes missed his childhood home, and would have liked to take Cedric there. The Earl had made that impossible thus far.
She sets aside the Earl's animosity towards her and decides to consent to the terms. She also does not enlighten Cedric of his grandfather's meanness. She only tells him that they will no longer be living together for a reason she cannot not explain right away, but that Cedric can visit her everyday and they will still see a lot of each other.
The Earl, in the mean time showers Cedric with money hoping to appeal to his greed. When Cedric finally arrives in England, the Earl tries to bribe him with toys and luxuries, in to forgetting his mother.
Will the mean spirited Earl succeed in corrupting Cedric, or will Cedric's inherent good nature and eagerness to see in the good in everyone prevail and convert his grouch of a grandad in to a human being? Read on to find out.
Highlights
This is an incredibly uplifting book that left me with a feeling of warmth and happiness that I have come to associate with eating chocolate.

The story may seem simplistic and overly optimistic, but it does carry some truth. Some may take advantage of guileless naivety, but it's not easy to do so, especially in the long term. Psychopaths and sociopaths no doubt exist, but they are few and far between. Most unhappy or bitter people can be won over with a genuine heart, compassion, and an eagerness to see the good in them.

Although there isn't much drama, except perhaps towards the end, the story is engaging and endearing.

The language is lucid.
This book runneth over with joy
Public Domain Books
Books have a copyright period during which their distribution is limited to certain conditions. However, once the copyright expires, the book enters the public domain and is free for all. Project Gutenberg then makes them available as ebooks, free of cost to the public. Many wonderful works of classic literature can be found on their website. Free ebook versions of gems like Pride And Prejudice, Alice In Wonderland, William and so much more can be found there.
This book was recommended to me by Lavanya, my partner in the Nina and Nana series. This is her review of the book.
Thanks PlusMinus'N'More, for everything I learned from you about reviewing books.