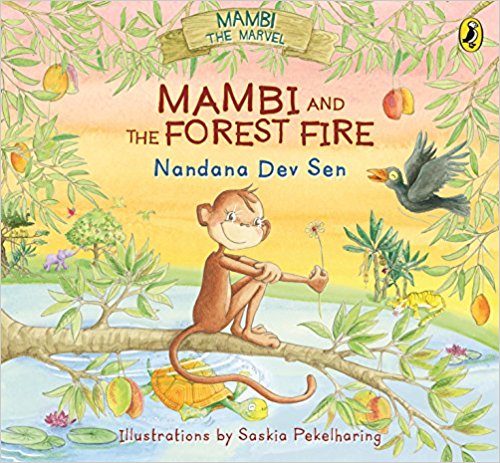 Mambi And The Forest Fire is a gorgeous picture story book by Nandana Dev Sen, illustrated by Saskia Pekelharing. Here is a detailed review of the book.
Mambi is an adorable, bright eyed, excitable, monkey living in a tall mango tee in the middle of a forest. Koko the crow and Tonga the turtle are her two best friends. They are both self confident and have amazing abilities. Koko can fly and glide through the air and Tonga can swim and glide through the water. Mambi finds both these things exciting but to her dismay, she can do neither. Koko and Tonga laugh at her as she tries to fly and swim and fails spectacularly both times.
Mambi is sad that she does not have any special abilities of her own. But she loves her friends and she is happy for Koko when Koko's eggs hatch and three perfect chicks emerge. With that happy thought, Mambi falls a sleep on a hot dry summer night.
Late in the night Mambi is woken up by the scorching heat of flames from the forest fire. In this crisis situation, Mambi discovers her own special ability. But will it help her save her friends from the hungry flames? Read on to find out.
Highlights
The illustrations are gorgeous.

Mambi with all her goodness and self doubt is lovable and easy for kids to relate to.

The book shows that courage is not the lack of fear, but the ability to do the needful in spite of being terrified.

Mambi does not let petty resentment hold her back, when her friends really need her.

This is an excellent story to read out loud to a group of kids. The plot is simple, so it is easy to follow in a group reading, but there is also enough drama and suspense to keep the kids hooked. I read this book to the kids in my daughter's school, and they loved it.
The book is suitable for 3 to 6 year old kids.
Monkeyshines are good for something!
You can buy the book here.
I want to thank PlusMinus'N'More for all they taught me about doing book reviews.