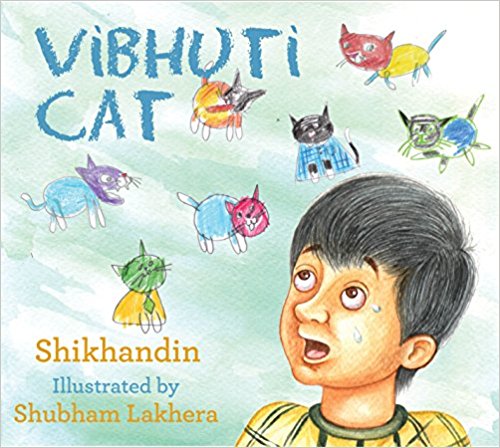 Book Details
Genre: diversity, Children's book, Picture book
Formats: Paperback
Ages: 4 to 8 years (Level 1 of young reader books from Duckbill)
Pages: 30
Publisher: Duckbill
Buy: From amazon India
Price: Rs 194 on amazon. M. R. P. is Rs 299 as per sticker on the back of the book
Plot Synopsis
Vibhuti Cat by Shikhandin is a gentle story that introduces us to the life of Magesh, a boy, most likely on the autism spectrum. It shows us how he interacts with his family and how they communicate with him. It illustrates Magesh's difficulty in dealing with certain emotions.
The story takes us through Magesh's fears and gets us to smile about his endearing way of expressing himself. It also exposes us to the challenges his family faces, and the various techniques they have developed to cope with difficult situations. One such being Magesh having to start school, a different one from his brother Vignesh. How will Magesh manage? Read the book to find out.
Highlights
The subject of autism or other disabilities can be sensitive and difficult to explain to kids. This book does it without judgement or cheerleading. It simply shows us what Magesh's life is like, so we can understand and hopefully empathize, but the author makes no such overbearing demands.

The illustrations, by Shubham Lakhera, are vivid and colourful, and the hand drawings are quite adorable.

Magesh and his brother share a very special bond. They play and work together so Magesh grows in intellect and confidence. The last project they undertake is the perfect metaphor for Magesh's growth.
Sweet and sensitive
Duckbill sent me this book for an honest review.
Thanks PlusMinus'N'More, for everything I learned from you, about reviewing books.