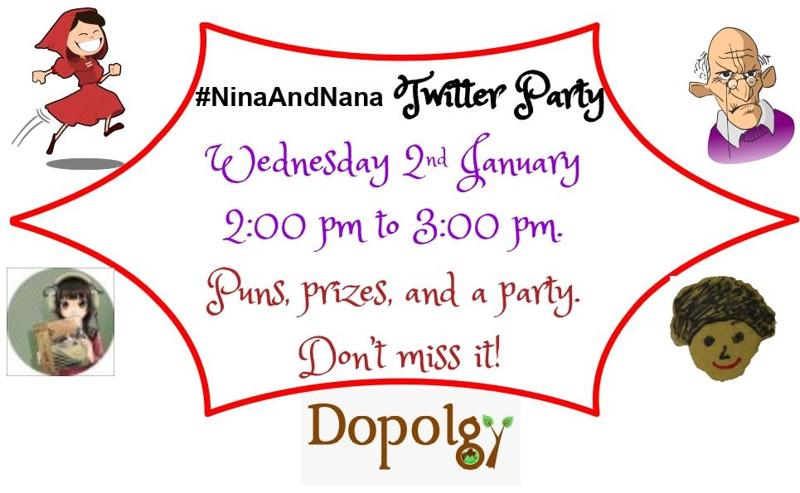 Where are #NinaAndNana?
#NinaAndNana are chilling out at a super secret location for Christmas. Well Nina is at any rate. Nana can never chill out as long as Nina is around. Even so, our information is that he doesn't have smoke coming out of his ears. But that's probably because they are in someplace where smoking is outlawed.
Anyway, guess what? #NinaAndNana are returning next year with a bang.
After a refreshing holiday, they return with a fresh perspective. They have had loads of fun quipping at each other last year, but they have decided that it's time they took this to the next level and unleashed some serious fun.
So they are going to have meaningful discussions, exploring subjects in greater depth. Check out the riveting repartee between #NinaAndNana as they take on one exciting subject after another. Let the games begin.
What's next?
The wit, the sarcasm, the puns and the tension will keep you at the edge of your seat, as #NinaAndNana battle over different perspectives, interpretations, and theories.
Every month they will pick a subject and have intense weekly discussions about some aspect of it. Join them for 4 Wednesdays every month for your weekly dose of infotainment. You know you can't do without it.
And in the spirit of the festive season, the theme for January will be FESTIVALS.
They will uncover some startling facts, dish some juicy information, debate some theories and ideas and finally enlighten you about some truly bizarre festivals from around the world.
But first, do remember to join them at their twitter party launching this new series. Share information or ask questions pretending to be wither Nina or Nana. Use #NinaSays or #NanaSays and of course always use #NinaAndNana.
It's a PARTY
#NinaAndNana look forward to seeing you at the party. Challenge them with questions or show off your expertise. We are all looking forward to being dazzled by your knowledge of strange and esoteric facts.
But wait... That's not all.... What's a party without prizes?
So there must be some and there will be two, sponsored by none other than DOPOLGY.
Nature has loved us all these years. It's time we loved it back too. Being Eco-friendly is easy. All you need to do is make small changes in your lifestyle. Dopolgy is here to help with green alternatives for your everyday life. From Bamboo toothbrushes to recycled newspaper pencils.
Check them out here, Facebook | Instagram Shop here
Make the switch to #GreenAlternatives
Thankyou DOPOLGY for prizes
One prize for the best #NinaSays tweet and another for the best #NanaSays tweet as judged by Lavanya and me. Remember to stay in character, cheerful and excitable for Nina, and snarky and grumpy for Nana as you share your tweets with the hashtags #NinaSays and #NanaSays. Tweets will be judged based on:
How well you stay in character of Nina or Nana, whichever you choose withhashtag #NinaSays or #NanaSays

How startling and interesting the fact you share or the question you ask is

How much punning and humor you manage to pack in
#NinaAndNana Twitter Party on Wednesday 2nd January 2:00 pm to 3:00 pm. Puns, prizes, and a party. Don't miss it!