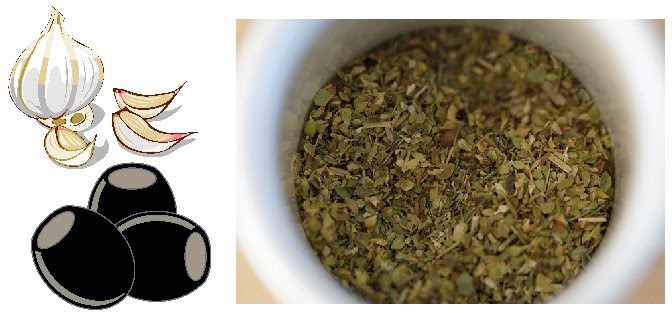 The best recipes I have come up with, have always been under strange circumstances of necessity. This one is no exception. My daughter has a fixed menu given by the school and on Fridays I have to send her whatever the school has asked me to.
The problem is, this time I did not check what I had to send till Thursday evening. That's when I found out I had to send her vegetable pulao. Not difficult to make, as long as you have a few vegetables. But I only had carrots and capsicum in the fridge. Capsicum the girl wont eat, and it seemed strange to make just carrot pulao. So I racked my brains a little and came up with this recipe using the ingredients I had on hand.
We always keep a bottle of sliced black olives in the house, so there was that, but what kind of pulao does that make? Well olives are common in Mediterranean food so they should go well with garlic and oregano, right? Oh well, only one way to find out. Fortunately, it turned out great and my daughter ate her tiffin with great enthusiasm. It is tasty and flavourful, but not spicy. Perfect for kids. So I am sharing the recipe here.
It makes a great afternoon snack.
Ingredients
1/2 cup Basmati rice

1 finely chopped, medium sized onion

2 small cloves of garlic thinly sliced (or minced)

1/2 a red carrot finely diced

Two heaped table spoons of sliced black olives chopped up in to little pieces

2 tablespoons olive oil

1 tablespoon dried oregano

Salt to taste

1 1/2 cups water
Procedure
Put two table spoons of olive oil in a pan to heat.

Add the chopped onion and fry for sometime on low heat.

Add in the garlic and fry some more.

Add the carrots, rice, oregano and salt and fry for another minute

Add the black olives and water.

Switch to high heat. Mix thoroughly and wait till water starts boiling. Then switch back to low heat and put a lid on the pan and allow it to cook for about 15 to 18 minutes. Turn off the heat but let it stay for another few minutes.
Your Vegetable Pulao With A Mediterranean Twist is ready. Serve fresh and hot for best results. Sorry we ate it all before I remembered to take any pictures