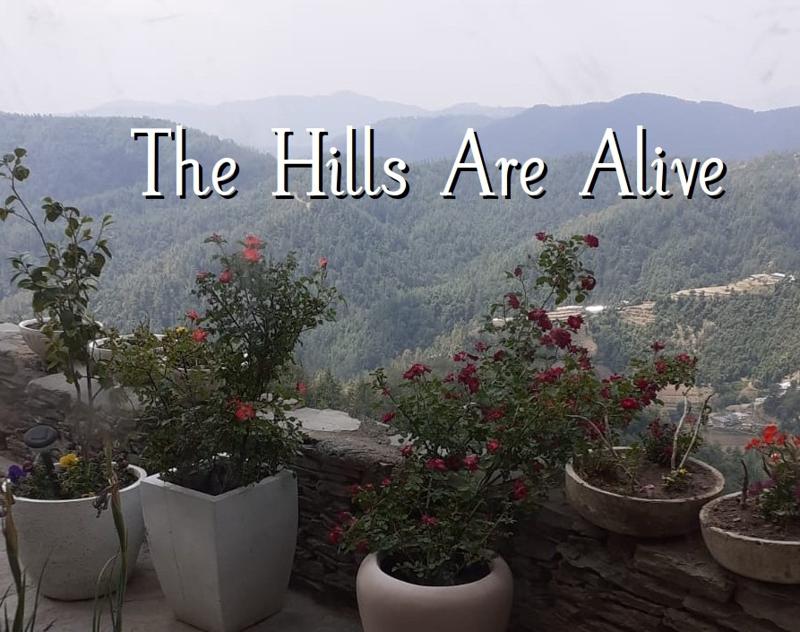 A photograph of the view from the balcony of our vacation cottage.
Nothing like the great Himalayan outdoors and a stiff dose of family time amid breathtaking views to wipeout two years of lockdown cynicism.
Summer of 2019
Summer of 2019 was special. Perhaps not as special as the summer of 69, but many of us will remember or it, or try to, for it was the last summer vacation we enjoyed in the pre-corona world. No masks, no vaccination certificates, no RT-PCR or antigen tests. Traveling was a lot simpler in those good old days.
Actually, summer of 2019 was special to us, because our summer experiment was a grand success. Swapping our quarterly weekend holidays, for one long two week vacation in a secluded cottage in the mountains turned out to be a pleasing blend of restful and exciting.
Encore!
So naturally, we were keen to repeat it the next year. In January 2020 we had booked a remote cottage close to Manali, and even as the impending shadow of corona rapidly spread gloom across the globe, we looked forward to our upcoming vacation, never once imagining that it would not happen.
There was a lot no one could have possibly imagined at the time. A global lockdown? No way! That's the stuff of bad science fiction, right?
But it happened, and too many of us were stunned, gaping, struggling to make sense of our world.
A Topsy-Turvy World
Dumbfounded and incredulous, we gulped and decided such a state of affairs couldn't possibly last long. No one would endure such madness. It was still March, and our holiday was planned for May. What a relief! The madness would blow over by then. It would have to. How long could people live in a Lewis Carroll novel?
Apparently, far longer than anyone could have imagined. In the last week of April, the reality of the situation finally sunk in, and we canceled the holiday.
For four months city-life was crippled beyond recognition. But slowly in late August, the slumbering beast began to stir. Cautiously, the denizens of Mumbai began to step out of their hidey-hole apartments, and gradual attempts were made at resuming normalcy. It was two steps forward one step back, as Indians fenced with the virus with a few hiccups through October and November.
Just as everything seemed to be under control in early February, we made plans to visit Mashobra, daring to fantasize once again about a Himalayan vacation. Just as the country dared to believe that the virus had been vanquished, it unleashed it's most lethal attack yet, and all hell broke lose. Once again, the our plans for a prolonged Himalayan holiday were ruthlessly squashed.
So this March, when I booked the two week holiday in the hills yet again, I couldn't shake my cynicism. I was sure that it wouldn't work out, and I couldn't muster any enthusiasm, even though we had booked a splendid cottage with stellar reviews on airbnb.
A Break At Last
In fact, wary after the experiences of the previous two years, I wouldn't believe it would work until I was actually there. I was sure something would go horribly wrong in the very last minute, making me feel like the victim of a skilled player in the whac-a-mole game.
But when I stepped into the porch of the secluded Himalayan cottage with breathtaking views and inhaled the pristine cold air, my doubts vanished. I was finally in the lap of nature, and I was going to make the most of it.

And the sunset views were pure magic, set in a fantasy novel.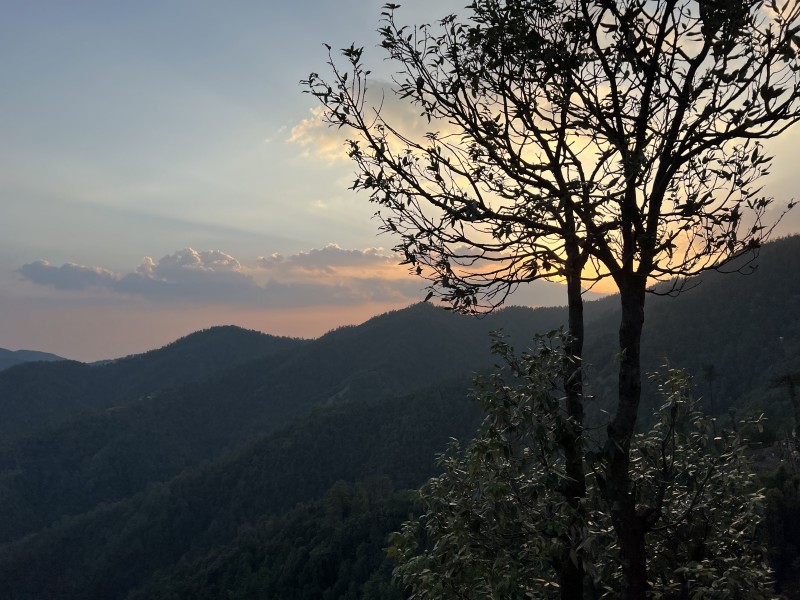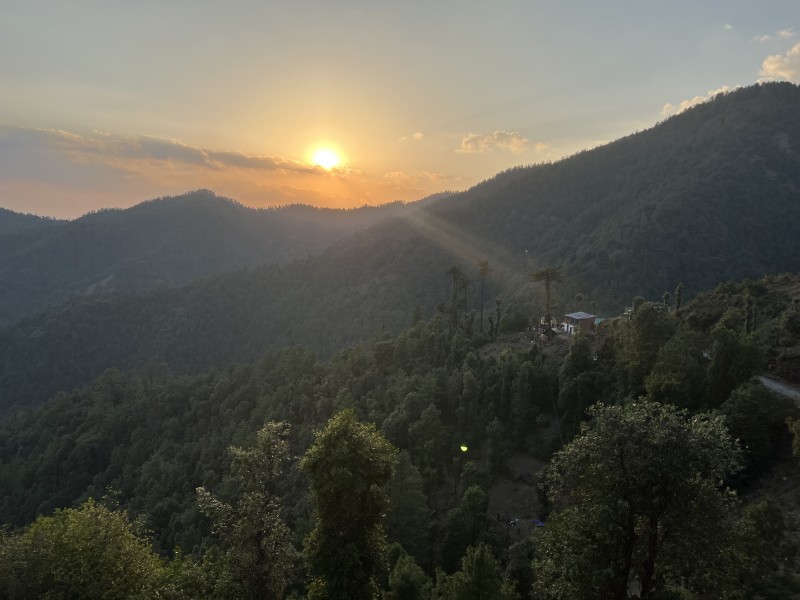 Having missed out on vacations for two years, unlike the previous time in Nainital, we decided to leave work behind, and immerse ourselves in holiday fun. A friend of mine stayed with us for the first week and my in-laws for the second week. It had been ages since we had spent so much time with anyone since the onset of the pandemic. In the remote Himalayan cottage near the town of Kufri, we could safely do away with masks and indulge in fun and games.
Our New Routine
The day after we arrived, we woke up bright at early. By 7:00 we were out to explore the local wooded paths. Every morning we'd go for a three hour hike starting at seven. By 10:30 we'd be at the breakfast table devouring parathas.
We'd spend most of the afternoon playing Catan, a fascinating board game. Then we'd disperse into smaller groups to pursue various separate interests. I worked on a 1000 piece jigsaw puzzle for almost an hour on most days. It took me 10 days to complete, and various people would chip in to help and chat as I worked on it.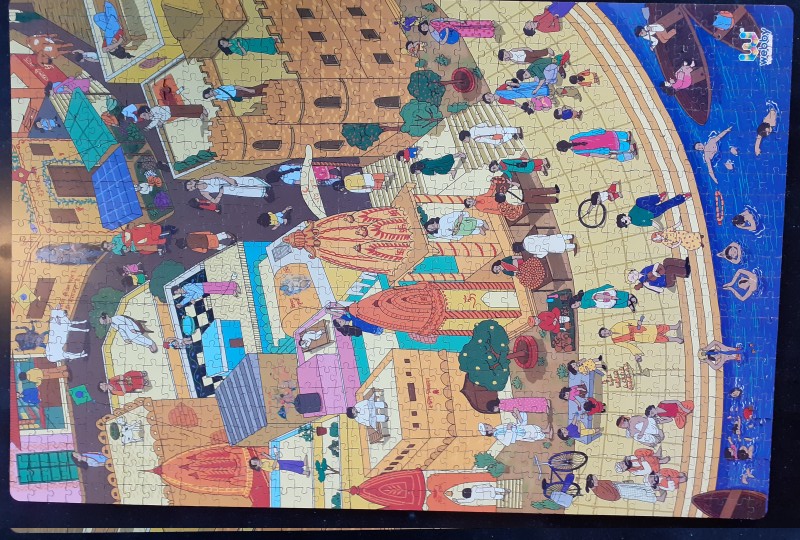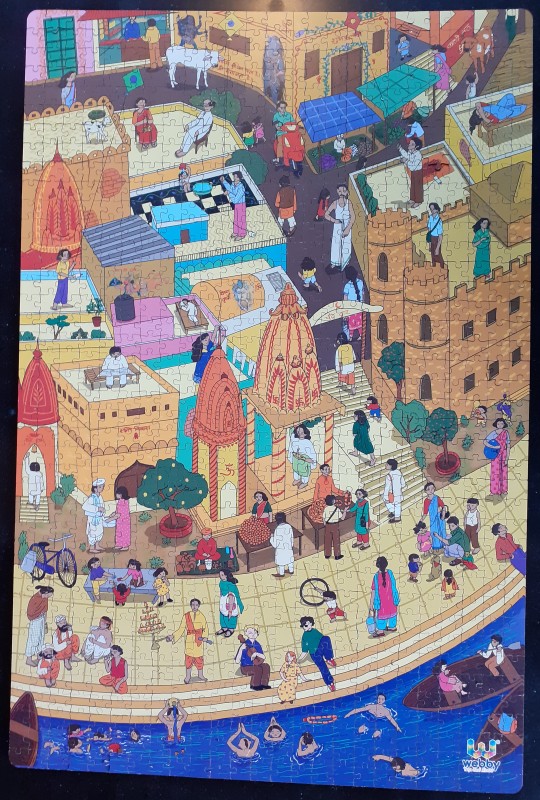 In the evening, we'd either go for a short walk or play Frisbee. Sometimes we'd drive over to the local market to buy fruits, dry fruits and snacks. One evening, there was a dramatic thunderstorm, and it was wonderful to hear the hailstones drumming on the roof, while we watched the clouds envelope the mountains between sips of ginger tea.

We usually had an early dinner at 6:00 comprising of salad, dal, roti, sabzi, a meat or paneer dish and dessert. The cook at the cottage made excellent dals. A few times, we availed of the barbecue option, enjoying succulent grilled pineapple, chicken and bell peppers. Cauliflower, paneer, potato, tomatoes and onions were also tasty barbecue options.
Local fruit like mountain peaches and cherries we picked up at the Kufri market added a heavenly finishing touch to our meals. We were intrigued by the local cherry wine and alcoholic gingerale, both of which turned out to be surprisingly flavorful.
Hiking

We discovered a glorious hiking trail that even my daughters, both under ten enjoyed, for it led to an expansive and gorgeous pine lined meadow on a mountain top where we could play Frisbee.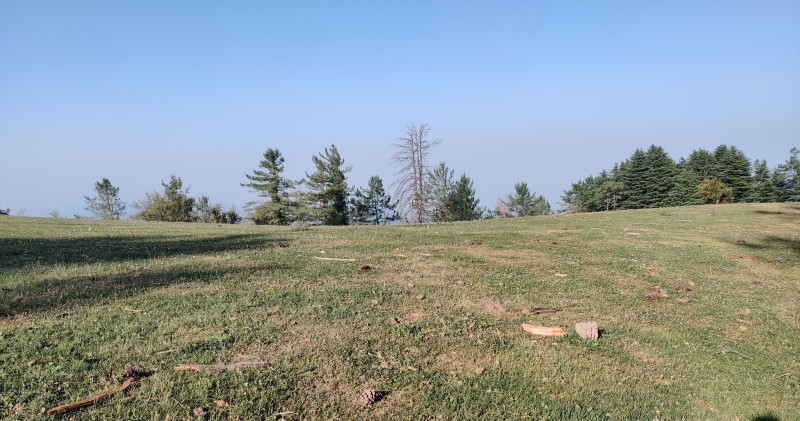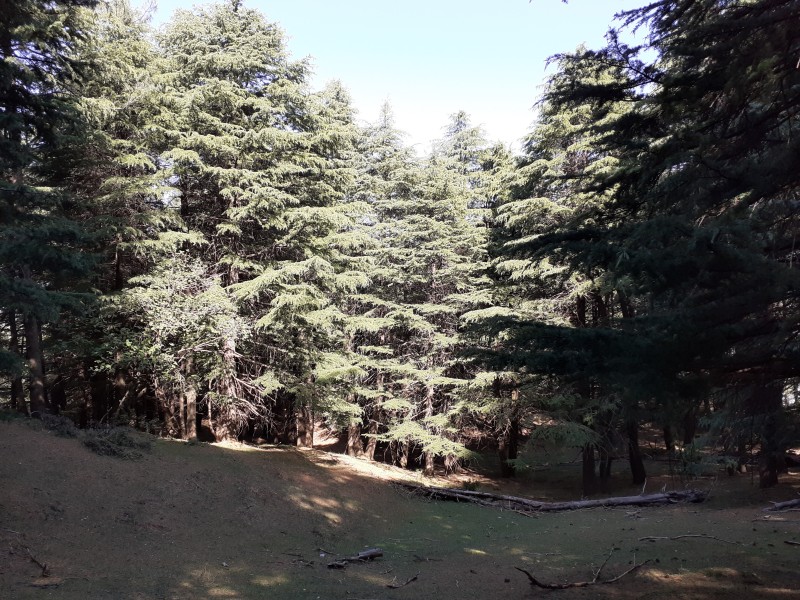 On a couple of days we even strung up a camping hammock between two sturdy pines, and my girls enjoyed relaxing in it after the uphill climb.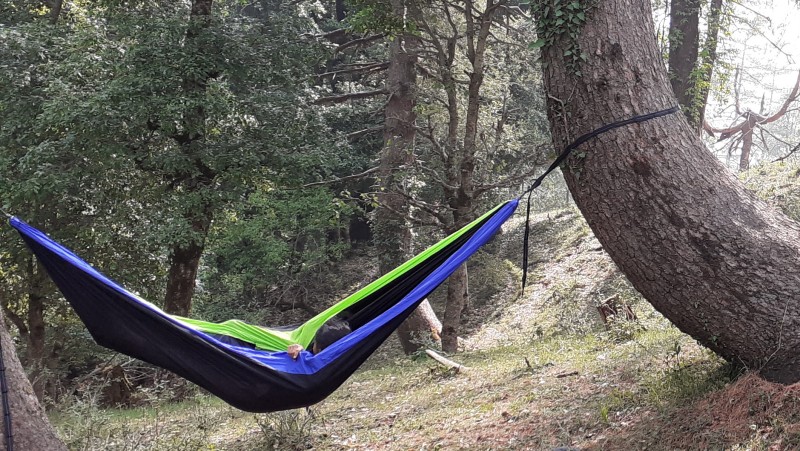 One day, after it had rained the previous evening, a large ditch or a depression in one section of the meadow had partially filled up with water, so my daughters floated barks in it pretending they were boats. Later, they tried floating pine cones and pistachio shells.

My older one assembled a telescope using one of those smartivity kits one afternoon, and used it to scan the panaromic views around the mountain top.

But one did not have to look far to see stunning sights. The pale green meadow was dotted with gorgeous bright red ladybugs and wild strawberries. Patches of white thriving daisies swayed in the gentle breeze. In the words of Wordsworth, a poet could not but be gay...

The trail begins at barely a kilometer walk from the cottage. There are several wonderful wooded walks on gravel roads too, that we explored in the evenings.
On our third day, we drove to the village of Khatnol, and continued over a dirt road to the point where one can begin the ascent to Shali Tibba, the highest peak in the vicinity of the Shimla district. We, including my seven-year-old daughter, the youngest of our party, began our climb around 10:30 in the morning.
The climb offers panoramic views of the surrounding areas including the famous Naldehra golf course.

The view of the wall of pines is magical and the changing vegetation from deciduous trees to pines is quite dramatic.

We completed our 6Km uphill trek and scaled a height of about 3000 feet to reach the peak around 2:30. The 360 degree views were amazing and reaching the top filled us with a sense of accomplishment.

After nibbling on some trail-mix and a few parathas we had carried along, we began our descent and completed our trek around 5:00.
I couldn't stop bragging about my 7 year old completing the 12 Km trek. The path was well marked and easy to follow and for the most part quite easily manageable.
Since we knew we were going to do a lot of hiking to make up for two missed holidays, we had equipped ourselves with hiking sticks and hiking boots. The equipment made our hikes safer and more enjoyable.
Beware of Monkeys
One day we drove over to Mashobra and explored the wooded paths in that area. The forest was serene and gorgeous.

The path was broad and simple but lined with tall lush pines. My daughters were enjoying a game, where they would rush ahead of us, hide behind a pine, and pounce on us as we walked by. This game made the long walk much more enjoyable for them, at least until... some monkeys got disturbed by their unexpected behavior and banded together and snarled aggressively at us. The monkeys held their ground until we retreated a few feet. Then they dispersed, and we waited a few minutes to give them a head start before continuing on our walk.

Something Different
After a week of following our blissful routine we decided to explore what else Kufri might have to offer, and we came across Kufri Adventure Park on Google and decided to give it a try. It offers quite a few adventure acivity packages for adults and kids. As a family, we enjoyed the 5D cinema and the bumper cars. My daughters loved the bungee jumping trampoline best, from the kids activity package. My husband enjoyed go-karting on the world's highest go-karting tack. I loved the donuts and old fashioned biscuits at the bakery, and we all enjoyed a good meal at the restaurant.
The Goldilocks Zone
We've found two weeks to be a goldilocks time frame for a vacation. There is ample time between travel back and forth to relax, adjust to local conditions, establish a holiday routine, explore and get to know some local secrets. It is however important to choose a comfortable cottage with complete privacy and a helpful and flexible staff for such a stay to be pleasurable. Reviews on tripadvisor and such sites can be helpful resources while choosing a cottage suited to one's needs.
On the other hand, two weeks is not so long that one's holiday routine becomes either oppressive or monotonous. We hardly missed home at all during our two long holidays in the Himalayas.
A Side Benefit of COVID-19 Lockdowns
My husband and I have very flexible work schedules and thoroughly enjoy these extended holidays, but in the past, many did not have the luxury of time for such extended vacations. With corona having forced many offices to make work from home possible, most work places are now equipped to handle it whenever necessary. So perhaps now, anyone can now persuade their organizations to permit an annual work from home stint, so they may enjoy an extended rejuvenation in the mountains. In my humble opinion, we all deserve it after the bizarre two years we've had to deal with.
Every dark cloud has a silver lining, speaking of which we saw the most striking silver lined cloud on our way from Chandigarh airport to the cottage, so may be, that's when our vacation jinx was undone, and our luck changed. I look forward to exploring many more such Himalayan hill stations in the summers to come.