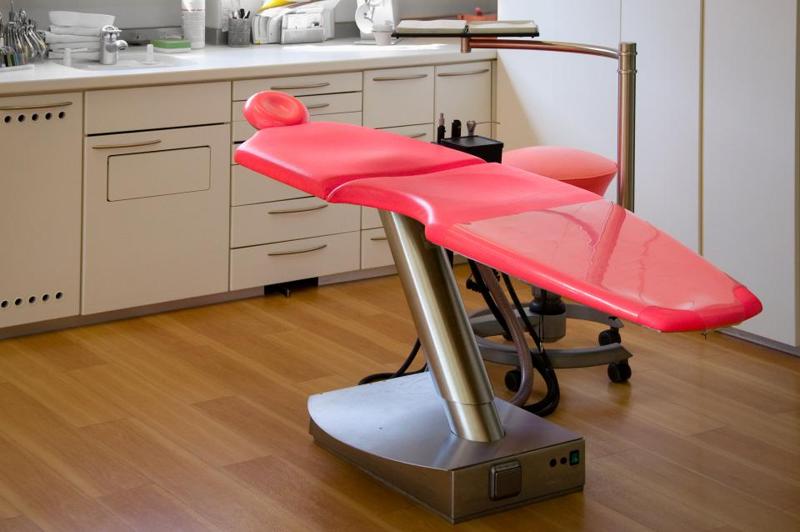 Whatever their age may be, most women are anxious as they step through the doors of a gynaecologists office for the first time. For some of us, a host of questions run through our minds. Others prefer not to think about it. Some are too embarrassed to ask the questions that plague them.
"There is no major preparation needed for teenagers by parents because an internal check up is not done at all. Still the apprehensive ones might need little counselling so that they don't feel shy in opening up about their problem." says Dr. Jain, who did her post graduation from K J Somaiya Medical College. Adult women require an internal exam.
Yes, I remember my own first pelvic exam. I trembled at the sight of the cold shiny metal speculum that the doctor was holding. It looked like an instrument of torture. The doctor was very patient and reassuring, but the exam was a lot more painful than I had thought it would be.
Here are some tips that may help you prepare for your first visit to an OB/GYN. The visit may happen under a variety of circumstances and I have tried to address many of them.
How to choose an OB/GYN? Decide if you are going to be more comfortable with a male or female OB/GYN. Many women prefer a female OB/GYN for their first visit, but are neutral about it later.
Find one that you think you can be honest with. Do some research about the doctor first. Talk to existing patients about the doctor's philosophies, bedside manner and competence and choose one that aligns best with your way of thinking. It is important to be honest with your doctor. Dr. Jain says that patient confidentiality has to be maintained even from family members. So as a teenager if you are embarrassed to let your parents know, you can still confide in your doctor. Choose a doctor you can trust.
When is the right time to visit an OB/GYN? Women in India do not typically visit the OB/GYN till they start planning a pregnancy unless they are having a major problem. Dr. Jain, recommends that a woman should visit an OB/GYN by age 20. She says "Today's generation is facing a lot of stress relating to studies and career which might affect their menstrual cycle. Also nowadays the cervical cancer vaccine is recommended between 9-45 years and a pap smear is recommended at a young age of 20yrs when females become sexually active."
If you are having a problem, please seek medical attention quickly. Medical problems worsen with time and can become critical if neglected.
What are common gynaecological problems that teens face? Dr. Jain says that in her experience, irregular periods and acne and Polycystic Ovarian Syndrome (PCOS) are the most common teen problems. PCOS has been on the rise in recent years. While facial hair and acne are some of the symptoms, PCOS in obese women could result in more serious issues like insulin resistance. According to this article, for some of these symptoms girls often visit a dermatologist, when they really should be seeing a gynac. This problem is best treated if detected early as many other problems including diabetes and metabolic disorders could result from it.
Ask your doctor about feminine hygiene Most doctors make it a point to talk about vaginal hygiene and urinary tract infections (UTI) and alert patients about symptoms to watch out for. If your doctor does not, it is a good idea to ask about it. Masturbation has been a taboo subject in India and more so for women. While it still remains an awkward subject for most, some are quite open about it. Either way it may be something to discuss with teenage daughters and their doctors. That way, if they indulge in it, they do so safely and hygienically.
Ask the doctor about safe sex Many women who use condoms are unaware that their effectiveness over time is fairly low. Also many teens make the mistake of using 2 condoms at once to be extra careful. But this only increases the chance of a condom malfunction because of tearing due to friction between the 2 condoms. If you do use a different form of contraception Intra-Uterine Device (IUD), be aware that an IUD does not protect you from sexually transmitted infections (STIs). So it is best to use a condom in addition to other birth-control.
If you are about to engage in unprotected sex, either because you are getting married or otherwise, it makes sense for both you and your partner to get tested for STIs. So don't wait for pregnancy planning to make your first doctor's visit. Be safe and responsible.
Jannet (name changed) says that, upon her insistence, she and her prospective husband got tested. She did a full range of STI tests but managed to convince him to get tested for the life-threatening and incurable ones. She is glad she did, because soon after they were married she contracted a treatable STI, but her previous clean bill of sexual health from the doctors made it impossible for her in-laws to blame her for it, as they were inclined to do.
Some young people prefer oral sex as there is no chance of getting pregnant. But many people do not realize that STIs can be transmitted through oral sex, although the chances are lower. If you plan to engage in oral sex, talk to your doctor about how to do so safely. As a parent this may be something to talk to your kids about.
Getting an abortion Teenage pregnancies are on the rise. According to this article the third National Family Health Survey (NFHS) found that in 2005-06, 6.7 per cent of girls in the 15-19 years age group in Mumbai were or had been pregnant, or were already mothers.
"Sex education at the right time is the need of the hour. If teenagers are aware lot of calamities might be avoided. And seeing the doctor at the right time is vital, instead of wasting time on quacks which can be hazardous to life." says Dr. Jain.
I agree. Because sex is a taboo subject in India, proper and detailed sex education is not imparted in schools.The important thing to realize is that sex education does not increase the likelihood of teenagers engaging in sex, but it does increase the likelihood of teenagers having safe sex.
Also, because of taboos associated with sex and out of wedlock pregnancies, many youngsters approach medical practitioners of questionable training and suffer problems like UTIs or or more serious effects of a shoddily performed surgery by unqualified medical staff. Some go so far as to incorrectly self medicate with abortion pills obtained from questionable sources, which can result in serious problems. Many women are unaware of the existence of the morning after pill, which could be used as emergency contraception to avoid many unpleasant abortions which take a huge psychological toll on many women.
As parents it is important to caution our teenage girls against unprotected sex. But it is also important to have them know, that should this ever happen, they should not hesitate to come to us and that we will help them.
Prenatal visit Many women do not visit an OB/GYN till they are planning a pregnancy. At this time, more than ever, it is important to find a doctor who is right for you. This doctor is going to guide you for 9 months through the ups and downs of pregnancy. It is essential that you get along because this is going to be a long journey. In the first trimester you see your doctor only once a month and then once every two weeks till the 30th week and then as often as once a week.
There are a myriad of tests to go through and many choices to make. Find out your doctors take on C-sections, epidurals, epistiomies and birthing positions. You want to have time to think about these things well in advance, so you are not rushed in to decisions.
Discuss your epidural strategy, both with your spouse and your doctor in advance. It is dangerous to administer an epidural once the contractions are too close. Epidural if administered properly can make birthing pain free, but if it is inappropriately administered especially in case of a sudden contraction, it can cause a dural puncture causing spinal fluid to leak out.
If you are against having a C-section check with other patients to figure out how often the doctor does a C-section. Some doctors may allow you to schedule a C-section if you want that.
Also decide on what birthing options you would like and if your OB/GYN provides those options. Make your choice clear about having or not having your spouse in the delivery room. Find out weather or not you will be restrained on the delivery table.
Birthing coaches or doulas available in India to assist with the birthing process. If you want one, check that your doctor is okay with it.
If you want a water birth there are a few facilities that accommodate that.
Finally, I wish you good luck on that first visit and hope that it happens under the best of circumstances and that it turns out to be as pleasant as possible.
PS: If you are particularly concerned about the dreaded pelvic (internal) exam, prepare yourself by reading about my article on the subject here.