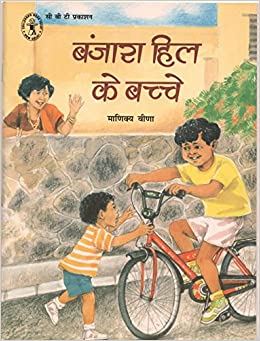 Book Details
Genre: Children, Hindi, Humor, Growing up, Family and Friends, Contemporary
Formats: Paperback
Ages: 7 to 11 years (If Hindi not first language)
Pages: 48
Publisher: Children's Book Trust
Buy From amazon India
Price: Rs 100 on amazon for paperback.
Summary
बंजारा हिल के बच्चे by Manikya Veena, is a collection of 4 slice of life contemporary Hindi stories about a little boy named Suraj, growing up from a toddler to a pre-teen in the typical Indian middle-class family.
In the first story, Suraj is a toddler. His mother, who is desperate need for some shut eye, after several failed attempts at a nap, offers to drive him over to his friend Anirudh's house. An overexcited Suraj manages to lock himself in the car and panics when he realizes that he is stuck in there. How does his mother handle the crisis?
In the second story, Suraj is older and starting to develop a sense of entitlement, and is therefore becoming demanding. How do his parents teach him the value of money?
In the third story, Suraj's parents take him, his younger brother, and two of his cousins to visit the zoo. Suraj is entrusted with the safety of his little brother while his parents attend to the needs of one of his cousins. The story is peppered with interesting information about various animals. But engrossed in discussing fascinating facts about animals, Suraj loses track of his little brother. How do they find him again? How does Suraj react?
In the fourth story, Suraj is becoming rebellious and testing his boundaries. How do his parents deal with this new facet of his growing personality?
To find out the answers to these questions read the book.
Highlights
It is easy for kids to identify with the protagonist, Suraj, of these realistic stories, which are expressed in simple lucid language and deal with relatable everyday matters involving family and friends.

In each story Suraj discovers the importance or meaning of a value like caution, responsibility, effort, or patience through simple everyday experiences. The stories are light-hearted and sometimes funny. The lessons imparted are memorable, but not preachy.

It was refreshing to read Hindi stories that deal with concerns of contemporary city dwelling middle-class children. It reminded me of my own Tania Series.

Breezy, engaging and the most unusual Hindi stories that I have come across for children.

The vocabulary and style are also contemporary, therefore easy to understand and useful for everyday conversation.

The illustrations are large, colorful, lively and in the same style as the cover.
Thanks PlusMinus'N'More, for everything I learned from you about reviewing books.