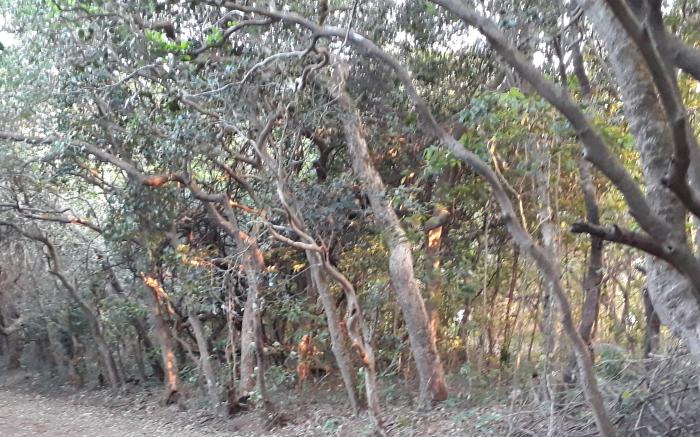 We usually don't like to go out during the Christmas holidays. True, the schools are closed and the weather is perfect in many parts of India. But then, that is what everyone thinks. So hotels and air-tickets are insanely expensive and get booked well in advance.
Our family likes going for holidays to somewhat secluded places, away from the hustle and bustle of daily city life, where we can enjoy peace, quiet and long walks amidst natural beauty. Unfortunately, throngs of people from the cities, find their way to every hill station, forest, beach, lake and riverside location and for Christmas, making them noisy and crowded, much like the city we are trying to get away from.
But this year the older one begged to go somewhere during the Christmas holidays. Finally she wore us down and we gave in. The search for the perfect location began. Since the weather is nice in December we decided on a road trip. We haven't explored Maharashtra much, so I got on to tripadvisor and started researching various locations.
When I learned that various farms in Mahabaleshwar allow you to pick fresh strawberries, the location was a lock. But then finding a hotel was not easy. My in-laws were coming too and taking into consideration various constraints, the only time available to everyone was Christmas weekend.
I went down the list of hotels on tripadvisor, going to each one's website and trying to book a room. Some were fully booked and some had only one available room on those dates. Finally I landed upon Saket Plaza and I booked it before the option disappeared.
Mumbai to Mahabaleshwar by road
We had hired a chauffeur driven Innova through Avis, left on the 23rd of December, had the car and chauffeur with us in Mahabaleshwar and then we returned in the same car on the 26th. The car package cost us approximately Rs. 25000.
When you look for the route from Mumbai to Mahabaleshwar on Google maps you get the following two options.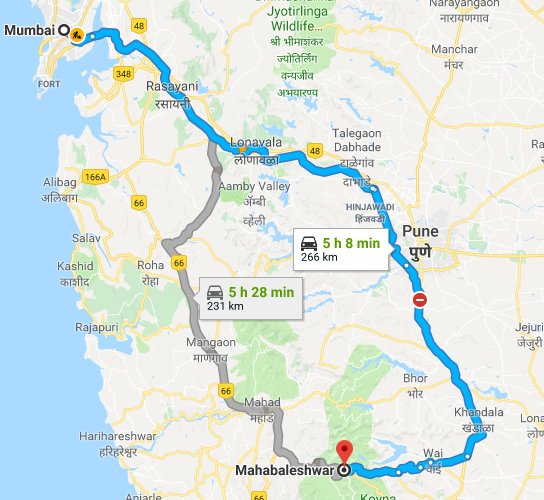 The longer one (266 Km) via the expressway usually takes a shorter time because of the high speed limit and broad road.
He shorter route (231 Km) via Mangaon takes longer, has narrow roads, but is a more scenic route.
We intended to make the journey in as short a time as possible so we left at 6:15 am and planned on using the expressway, but because of the the mishap on the express way the traffic was piling up. Fortunately our driver noticed something was amiss on the GPS and switched to the alternate route at the last possible moment. Phew!
But the alternate route was not made to deal with very heavy traffic and there were a lot of minor traffic jams and the journey took us almost seven and a half hours. Luckily we had carried plenty of food with us, home made cake, cookies and aaloo paratha. So, at least, we did not have to stop for a snack and the kids ate, sang songs, napped and stayed cheerful.
Eight hours later we finally reached the hotel. But if we had taken the expressway we may have reached much later than that. On the return journey we did take the expressway and with no mishaps we made the journey in a little over 5 hours.
Saket Plaza Hotel
We stayed at the Saket Plaza Hotel and here is a review.
Pros
The hotel is tucked away in the middle of trees and has a secluded feel to it. Yet it is a mere 9 minute walk from the main market.

They have a huge kids play area with swings, slide, a tree house and a trampoline. Unlike in many other hotels, these are all well maintained. My kids particularly enjoyed the trampoline. It gave them loads of exercise too.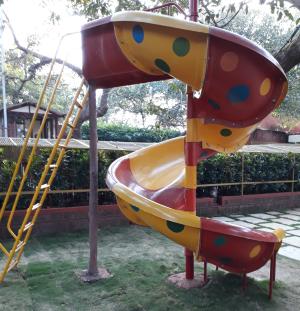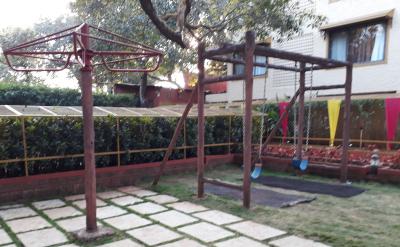 There are some nice swings for grown ups too.

The Gujarati thali they serve for lunch is quite tasty.
Cons
Check out time is 8:00 am, and 9:00 am if you have kids.

Dining hall is open for only a very short time and food is not available at any other time. Timings are 8:30am o 10:30 am for breakfast, 12:30 pm to 2:30 pm for lunch and 8:30 pm to 10:30 pm for dinner

The hotel only serves vegetarian food. The food served for dinner and breakfast was just about tolerable

You get running hot water at the tap only from 7:00 am to 11:00 am and between 7:00 and 8:00 am the pressure is very low and the hot water sometimes runs out while taking a shower. For the rest of the day hot water can be obtained after a 15 minute wait for a very short time by asking house keeping for it.

The pool is small with too many obstructions.
Mahabaleshwar on Christmas weekend
Mahabaleshwar was very crowded on Christmas weekends. Most of the good hotels are fully booked and the place is not equipped to deal with such huge crowds. Almost every road gets choked with traffic and the tourist locations like Venna lake have extremely long queues for boating and rides.
That said you can still enjoy Christmas in Mahabaleshwar if you know a few tricks.
The jams start close to touristy locations, so if you plan to visit them it is best to go by car up to the start of the jam and hoof it the rest of he way.

Check on Google maps for walking routes to places as there may be short cuts and walking may be more pleasant than driving. One day we came back from a restaurant and it took us 30 minutes because of traffic. But the next day we walked on a small road avoiding all traffic and made the journey in 15 minutes.

When visiting various points like sunset point and Lodwik's point look for small off beat paths that are secluded and still have the same views. The usual road to sunset point was littered with cars, hawkers and throngs of people. But here are some pictures of the path we took and the views we saw.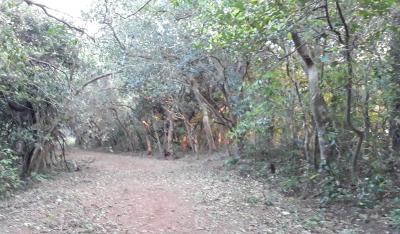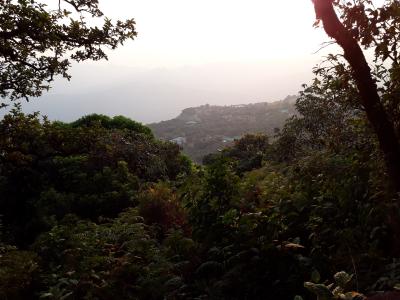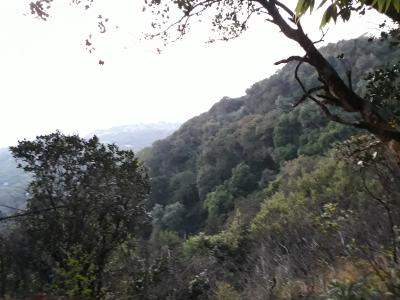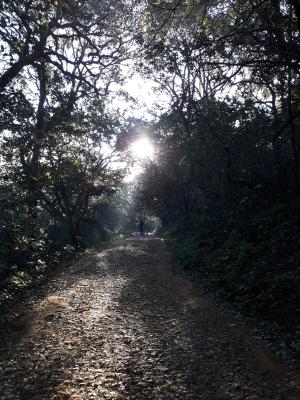 At Kate's point we went off the beaten path on to a small narrow path in the forest and were able to go beyond a fenced off area and see some awesome views.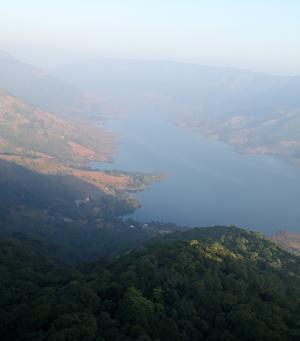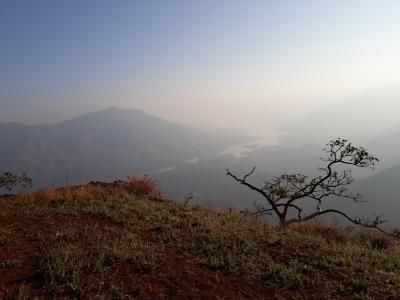 We wanted to go boating on Venna lake but it was terribly crowded with long queues all through the day. However we found that if one reached at exactly 9:00 am when the boating starts it is possible to avoid the crowds and enjoy boating without having to deal with queues.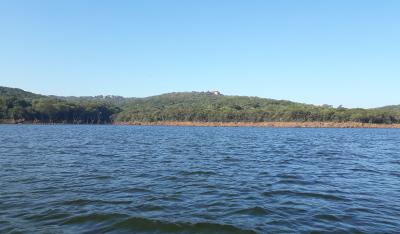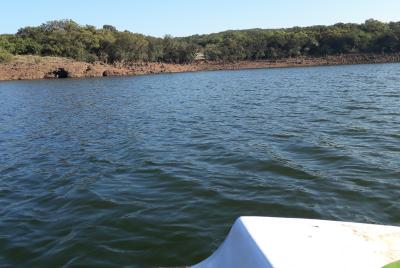 Strawberry Picking
Another enjoyable activity was picking strawberries at Laxmi farms. If you want to go on Christmas day you need to book with them a week in advance, but on most other days they only need a one hour notice. It is better to go before twelve, when the sun starts getting quite strong. They charge a fee of Rs. 100 per adult and the market rate for the strawberries you pick.
We picked 1 Kg of strawberries and I must say they were the most crisp and delicious strawberries I have ever eaten.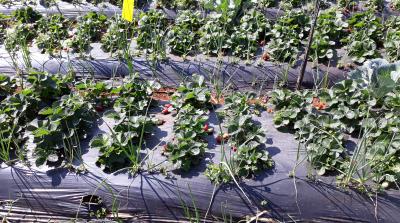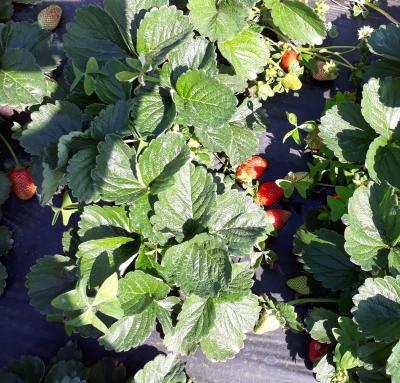 Restaurants
We loved The Grapevine which is a stand alone restaurant. I particularly enjoyed the strawberry cooler, green apple soda and lamb shanks. The fish and chips wasn't very good though.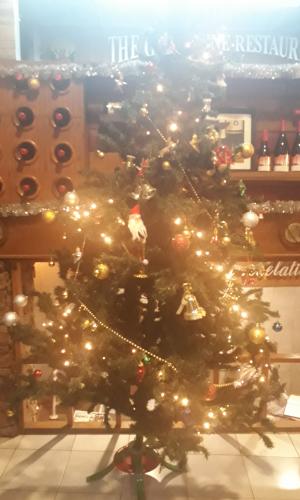 The Brightlands Resort has a restaurant called The Olive Garden, which was really good. It is reasonably priced and we loved the grilled mushrooms, the tomato garlic soup, the green papaya salad, the bhuna ghost and the tiramisu. The roast lamb with mustard sauce was tasty, but the meat was a little chewy and not as soft as in the bhuna ghost.
Shopping
The market had some adorable wooden toys. We also bought a tasty honey amla sweet and Mulberry jam at Madhusagar. We bought and ate over a kilo of strawberries every single day. We also found some strawberry wine at the local wine shop that was pretty good.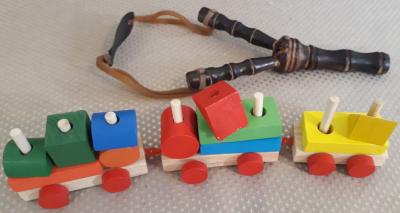 Weather
The weather was chilly between 12:00 am and 8:00 am and pleasant the rest of the day. A light sweater is handy.