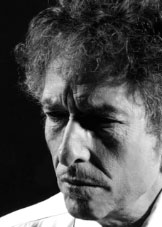 Last night the Nobel prize in literature was awarded to Bob Dylan "for having created new poetic expressions within the great American song tradition".
While it was a shock to some, others thought it was long overdue. Personally I am not a big music enthusiast. Yes I do like music, but a I listen to a little bit of this and a little bit of that, whatever feels good at that time.
But the name Bob Dylan is hard to be ignorant of, even for someone like me. Blowin' in the wind, taught to me in school by my singing teacher, is a beautifully expressed, thought provoking song, about war, peace and freedom.
In time I came across Mr. Tambourine Man when it was mentioned in Gilmore Girls (I love this show) and vaguely remember hearing The Times They Are a-Changin' on a few occasions. These songs have been mentioned on many of the top 10 lists people have compiled of Dylan's songs over the years including the ones compiled after he was awarded the Nobel.
Many of Dylan's songs carry strong social and political messages and some of them became anthems for the civil rights and ani-war movements in America. He deals with heavy subjects like racism, war and peace.
However, the Dylan song I am best acquainted with is Forever Young, mainly because it was the theme song of the popular TV show Parenthood. It warmed my heart to find out, that Dylan wrote it as a lullaby for his oldest son.
My favourite lines are from the first verse of the song:
May you build a ladder to the stars

And climb on every rung

May you stay forever young
I love how he mentions climbing every rung rather than just focussing on reaching the top.
In the second verse he talks about the importance of the truth and knowing the truth and really seeing it. And once you know the truth, you need the courage to face it and the strength to act on it. What a wonderful parenting message.
May you grow up to be true

May you always know the truth

And see the lights surrounding you

May you always be courageous

Stand upright and be strong

May you stay forever young
In the final verse he states the importance of thinking and knowing where you stand, being clear about your convictions, so you are not easily swayed.
May your feet always be swift

May you have a strong foundation

When the winds of changes shift
Finally, this was a great theme song for a show, that dealt with so many aspects of parenthood including, single parenting, special needs kids, mid life crises, health crisis, economic problems, inter-racial parenting, varying gender roles, separation and adoption.
Congratulations Bob Dylan on the win. Congratulations Nobel committee, on thinking outside the box.