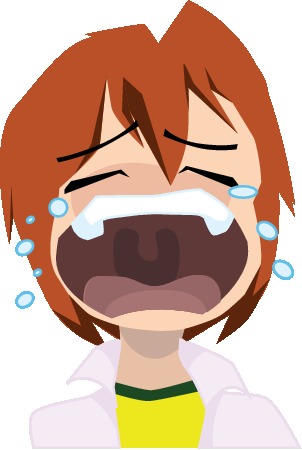 I have noticed in various places, when a kid gets hurt and starts crying, sometimes, the grown up in charge rushes to comfort them but does so in strange way. For example if the child has stubbed his toe on the table, they beat the table and say, "Bad table, bad table!" Or if the child has banged their head on the wall, they sternly wag their finger at the wall and say "Bad wall!" Sometimes the child is encouraged to participate in punishing the offending inanimate object.
As a distraction technique, this works great. The child has something to vent their frustrations on, and it diverts their attention for a moment. And that is about how long transient pain from bangs and falls, last in kids. And by the time the offending object has been chastised, the kid feels no more pain. A crisis is averted and the child is happy.
But ...
I must admit that when I first saw this method employed, it seemed crazy to me. Beat a table! That's insane, isn't it? How can one possibly blame a poor defenceless table?
But...
Then I noticed it works and who does it really harm? Beating up a table is not exactly inhumane, certifiable may be, but not cruel to anyone and if it does give the child some measure of comfort what's wrong? So I indulged in it myself one or two times.
But ...
That's when I realized what really was wrong. My usual way of dealing with my kid getting hurt is hugging and comforting them with cuddles followed by a reminder that their actions have consequences and that they must pay attention or be careful so as not to be hurt.
That's where blaming the table or the wall messes everything up. It tells kids that, the way to deal with misfortune or misery is to find someone or something to blame, and having done so you can feel happy and move on.
I don't want my kids to deal with misery that way. Misfortune and mistakes are a part of life. But, simply, finding someone to blame, no matter how ridiculous, is not productive. I don't want my kids to be overwhelmed by misfortune, mistakes or failure. But, I do want them to take responsibility, analyse their actions and circumstances, and learn from them so they are better equipped for the future. And blaming the table or the wall does not achieve that.
Even in the case where, someone else actively causes the child pain, it is important to help the child see that they have little control over the actions of others, so finding someone to blame should not be the end of the story. It should be pointed out to them, that they can learn from the situation and figure out their own best course of action to deal with it, either through confrontation, or caution or cleverness, or whatever technique works best in the particular situation.
Again, no parenting technique is universal and as parents, we need all the tools at our disposal. Occasionally, using the blaming the table method, to help a kid, quickly, get over being terribly upset in a public place for their safety, or for other urgent reasons is quite sensible. But it is probably best not to use it too often, thereby, unintentionally, conveying the wrong message about responsibility and blame.